guitars
As I began to make things out of brass for motorcycles, the Les Paul also demanded a share. Soon i discovered that brass has some very good shielding qualities that improves the sound. It is non-ferrous, meaning non- magnetic, so it must help to isolate the pups (pick-ups): by blocking magnetic interferences and radio waves is the common assumption. Others attribute this to a bit of magic.
I don't really know why it sounds better??? but it does.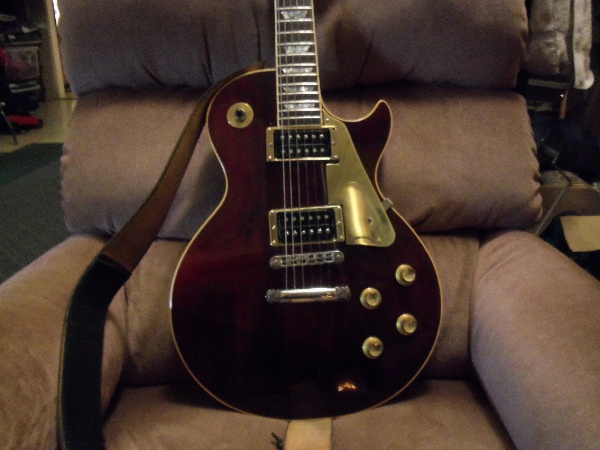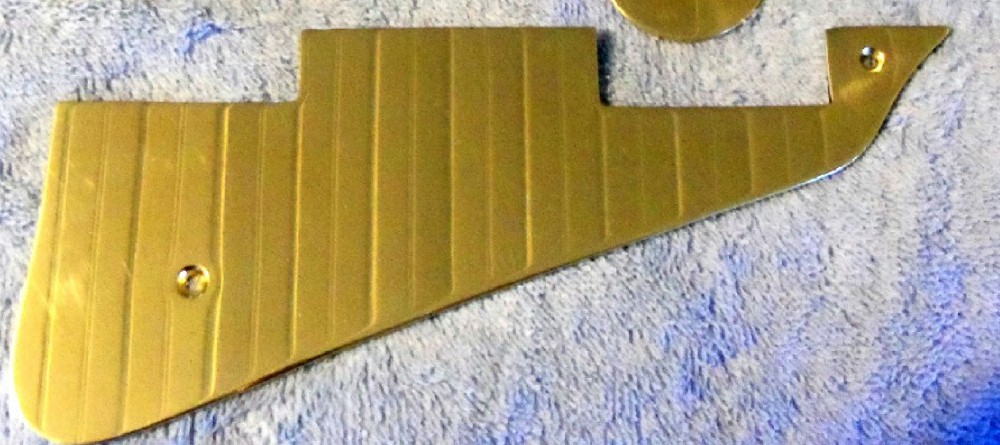 -$35
or send me a tracing
Gibson truss-rod cover 1/32"
fits them all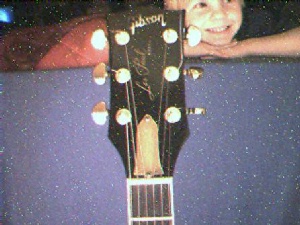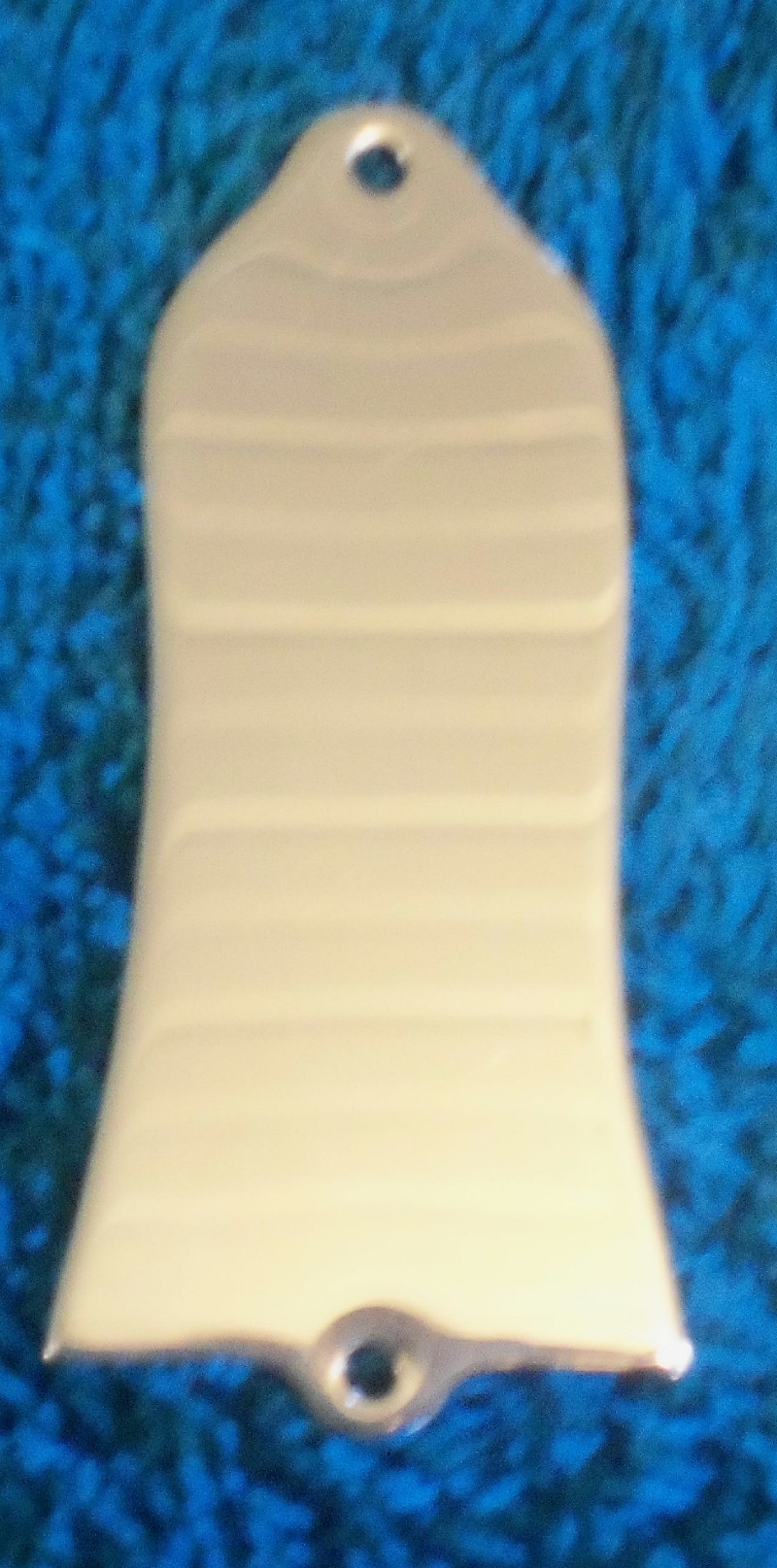 A set is the way to go
All the other parts are the same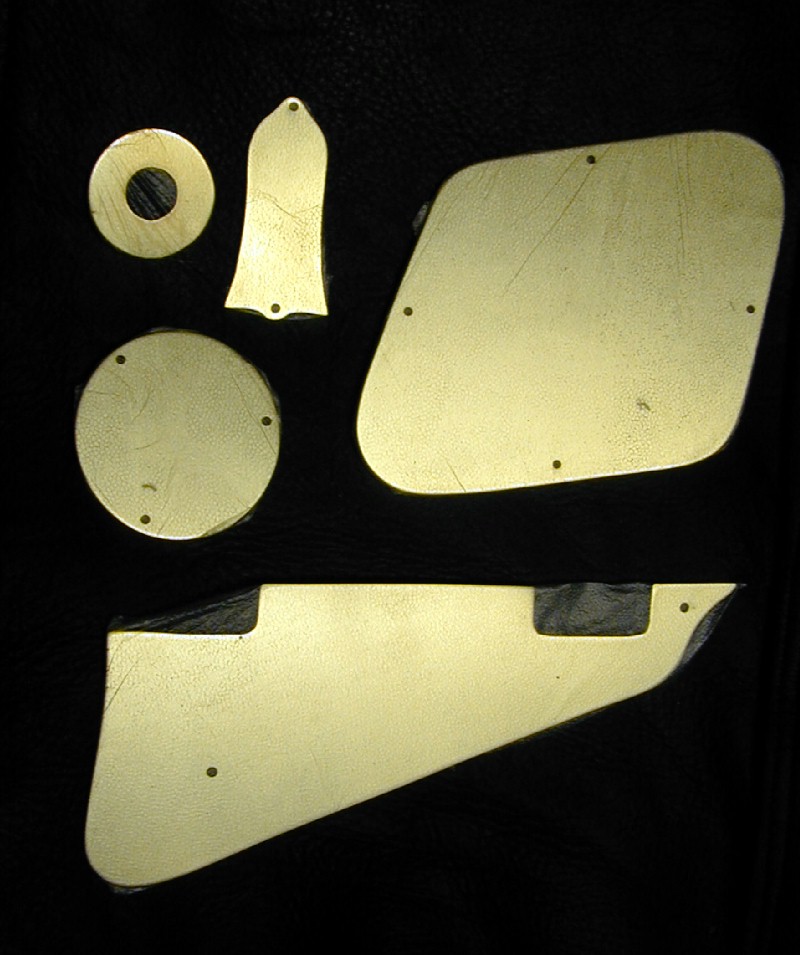 les paul deluxe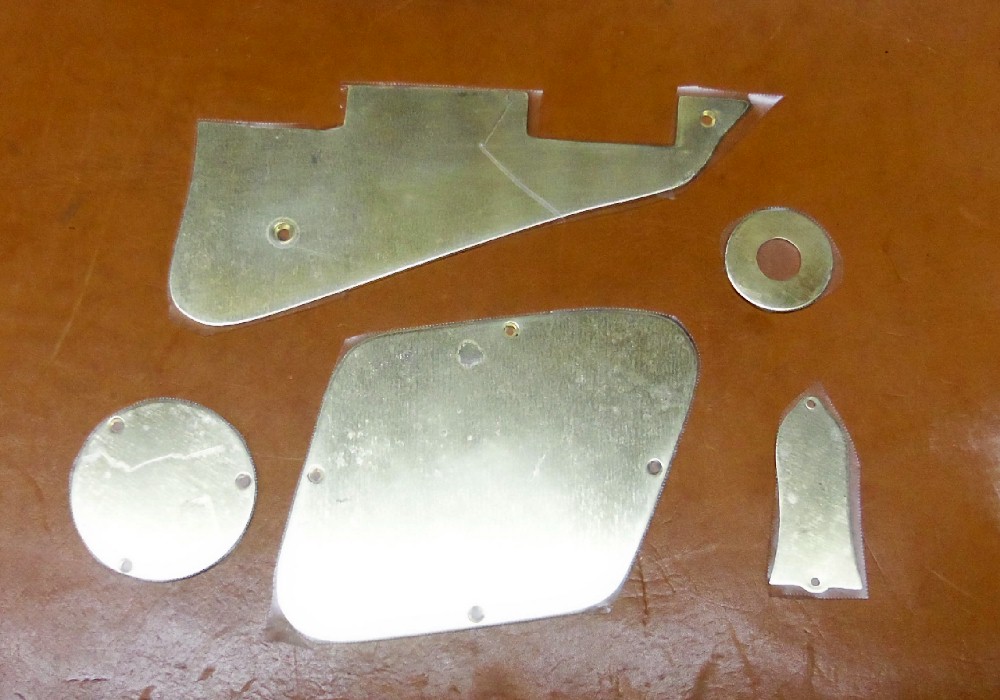 les paul standard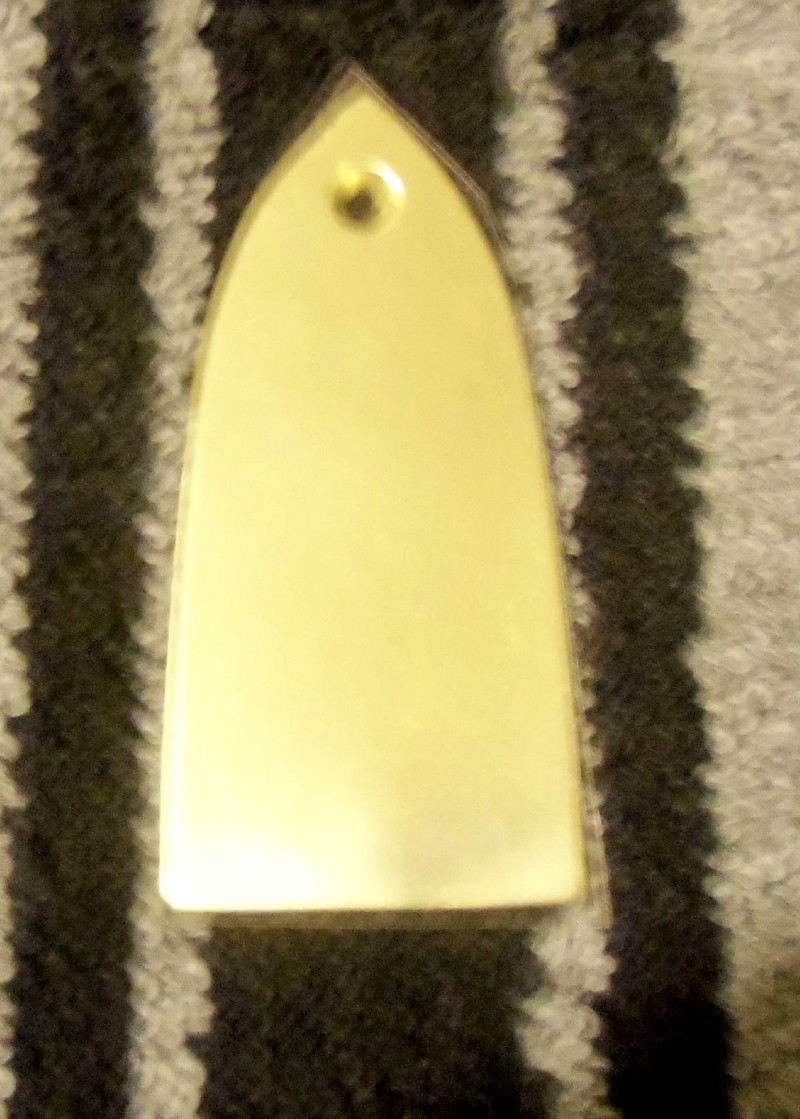 i do the Edwards/Les Paul copies
and this truss cover 1/16 fits universal-almost all guitars
i will make a thin 1/32 for acoustics
etched designs and copper tint for studio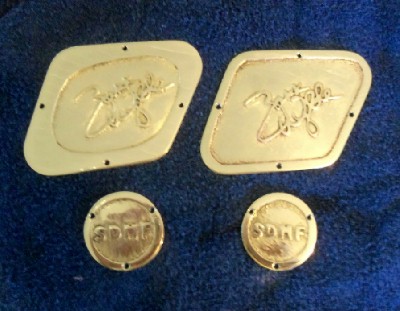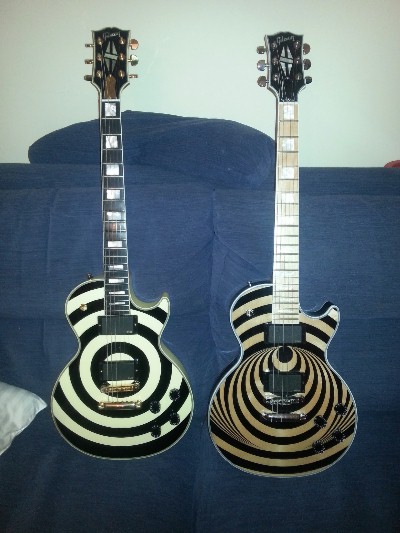 sweet pair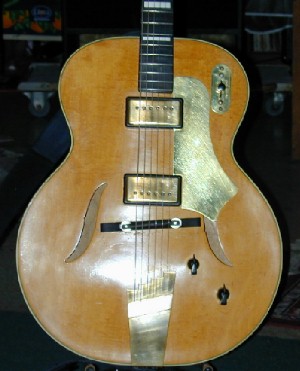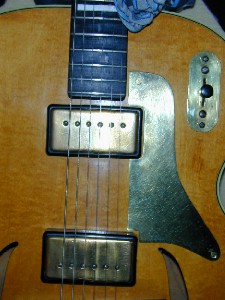 This is a 59 supro del mar. it makes a good slide guitar. i dont like the way the first brass stock-replica pickguard covers the f-hole, so made it a second to let it breathe.
no, not a chet adkins gretsch, but a southern belle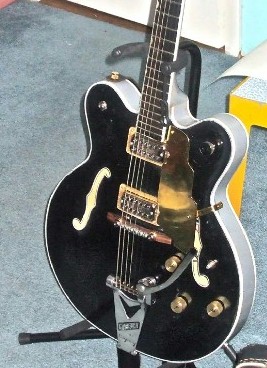 if you like plastic, then stick with it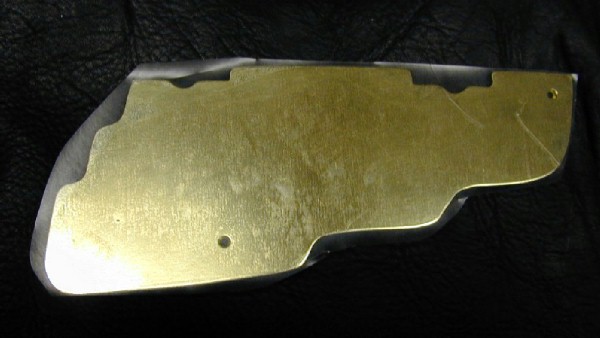 almost

the Worlds Finest Guitar Strap
In my estimation this has to be

almost

the worlds finest guitar strap.

almost

, because there is no fancy stuff. its built for work. If you want a better mousetrap then make one. I did! Just don't try and sell it if its not cheap. Almost 2 in. wide, made with 8 oz. leather and padded for comfort. this is bootleather. you sit tall in the saddle. There is no adjustment, a strap like this is measured eye to eye and made to fit. An attractive junction is added to the tail section, and could provide some adjustment. give a 1/2" for break in


when they are gone....thats it!
made in the U.S.A.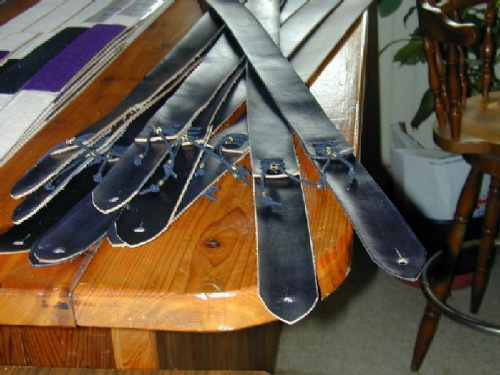 $30 ea. - guitar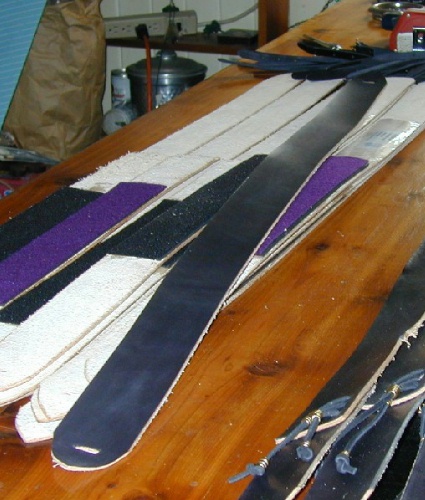 $35 banjo/universal
complete with 2 attaching straps or whatever you need
to hook up that mandolin or acoustic
this is fully adjustable, ~3ft. long, padded shoulder for extra comfort
with brass accents
choice of royal purple or black felt- lined pad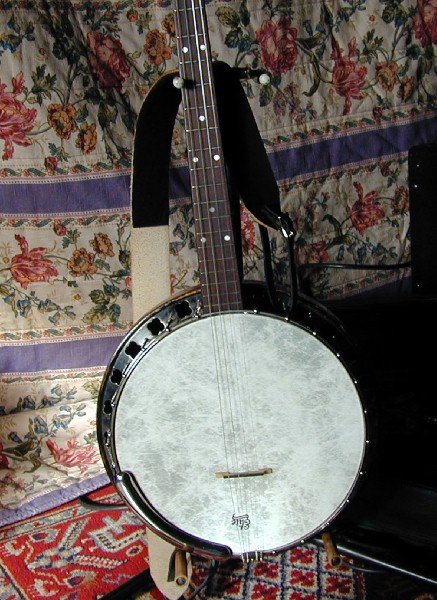 banner blue- plectrum banjo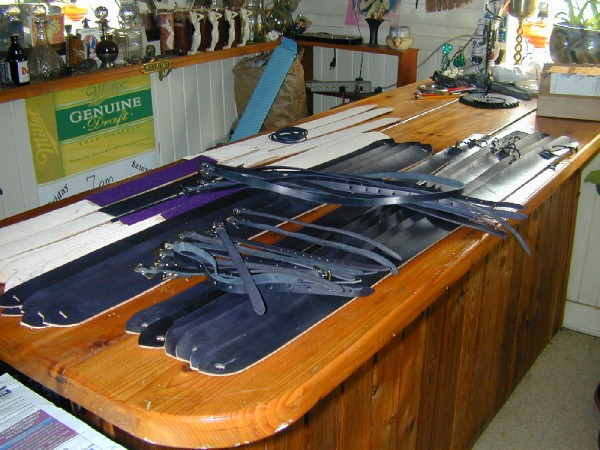 the last run
When you buy from me, it will be be quite easy
PAYPAL APPROVED